Flashing The Ardunio Nanos (Nodes)
In this process we will flash the Arduino nanos with the Arduino code, we will define the node number for each nano being flashed. If you are updating your timer from a previous version, it is important to also update the nanos with the latest code.
Using the INO code supplied in the latest release, we will make some changes each time we flash the code to each nano. Each time we flash a nano, we need to tell the nano what node it is, if you using a 4 node timer, nodes will be 1 through 4 and if you use a 8 node timer, they will be nodes 1 through 8 and so on. So for each nano we flash, we need to change the node number.
First, download the Arduino IDE software from the Arduino website here and install it.
Plug in your first Ardunio Nano via USB and open Device Manager in Windows. Here we will see what port the nano is connected on. In the example shown we will be using COM4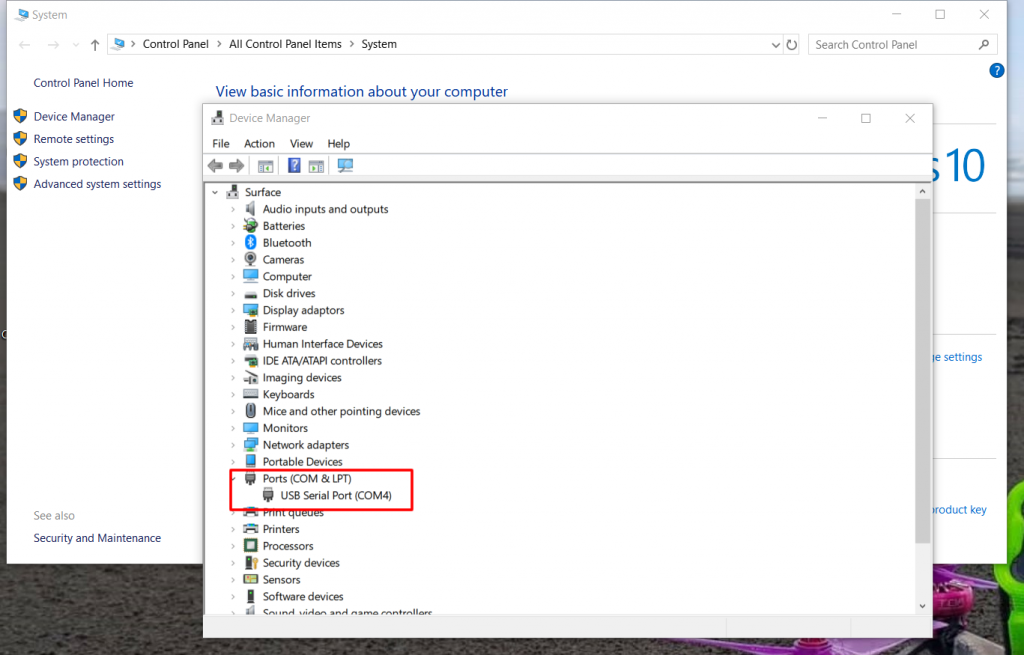 Now we will copy and paste the code from node.ino found on the RotorHazard GitHub page into the Arduino IDE window. Check the GitHub page for the latest version. Otherwise download the ZIP file from the releases page and unzip it.
RotorHazard/src/node/node.ino
AS OF VERSION 2.1.1 this is now
RotorHazard/src/node/rhnode.cpp
In the above example, we are also defining what node number will be used. Each node will need to be addressed uniquely from 1 – 8. You will need to repeat this process for each nano being flashed, changing the node number each time. The first node will start at 1 through to 8.
Now we are ready to flash the nano! Select your board type as "Ardunio Nano" as shown below.
Now we need to select the Boot-loader version that your nano is running. Depending on the version of the nano, this could be any 1 of the 3 options. Try all 3 options until the flash is successful.
Now we select the COM port to communicate on. We found the COM port at the very beginning of this page of the article. Select the COM that your nano is using.
Now, we can flash the nanos with the code shown.
We can see at the bottom of the screen that the flash was successful. If you receive a error flashing, go back and try a different boot-loader option until the flash is successful. Repeat this process for all nodes, changing the unique node number each time.